Enrollment Prerequisites
To ensure the continuing success of our student graduates, requirements of the following minimum competency to be meet prior to enrollment
Present valid government issued photo identification
Interview with an admissions representative
Demonstration of English competency including reading, writing, and verbal skills such that the student can become an employable candidate
Express time available as well as motivation to attend all classes, labs, and, internship hours as required
A level of mechanical ability to allow the student to succeed and understand the material presented to him/her, as well as being able to secure credible employment upon course completion/graduation
Student Candidate must possess or be able to easily obtain a valid TX driver's license
Student Candidate must be able to pass a criminal background check required by most contractors
Student Candidate must be able to pass a random Drug Screen test as required by most contractors
Student must establish satisfactory financial stability in order to maintain enrollment as a student for the duration of his/her curriculum
All financial arrangements regarding tuition etc. to be finalized prior to start of first class
Present proof of secondary education (High School diploma or GED certificate)
Program Outline
Instruction Times
The approximate time required to complete the program is as follows
Day Classes | 6 Weeks, 180 Hours
Monday–Thursday: 8:30 am to 5:00 pm
Evening Classes | 9 Weeks, 180 Hours
Monday–Thursday: 5:30 pm to 10:30 pm
Weekend Classes |18 Weeks, 180 Hours
Friday: 5:30 pm to 10:30 pm
Saturday: 8:30 am to 2:00 pm
Call us or set up an appointment for enrollment details!

DEMONSTRATION
Once comprehension is achieved, instructors will demonstrate the required skills, commenting as they do it.
COMPREHENSION
Students will learn new concepts in material in the theoretical environment via lectures, videos, and written material.
OBSERVATION
Students will perform the skills and will be observed and coached as they improvise their skills.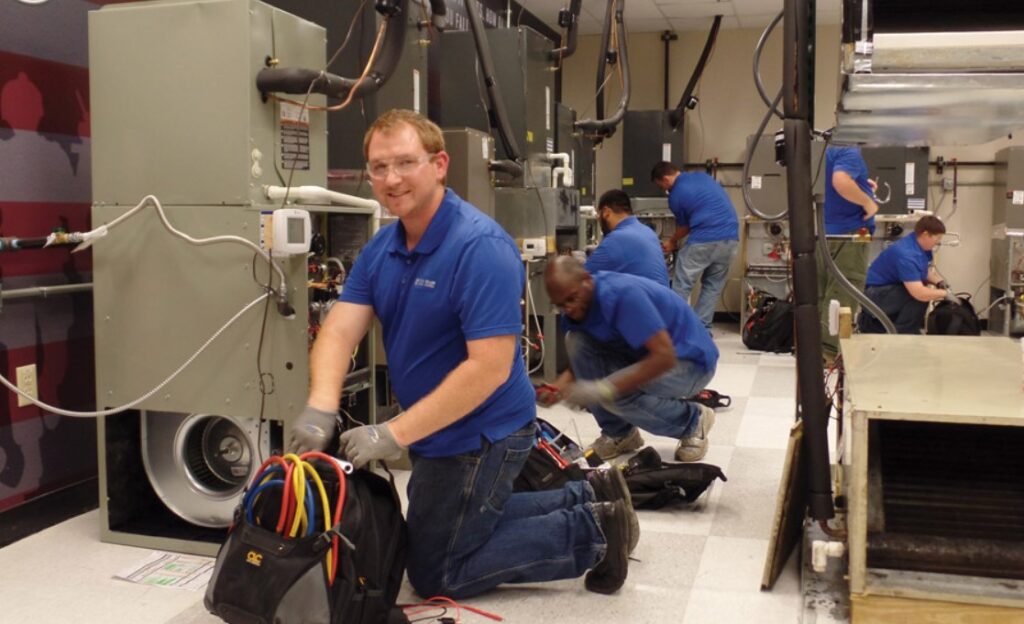 Best HVAC Programs
Houston HVAC Technician Training Center is the leading provider of HVAC training programs in the Houston area. Our highly experienced and skilled instructors are dedicated to providing students with the best HVAC training programs available. We offer a variety of programs including Basic HVAC training programs and Commercial HVAC training programs.
Our Basic HVAC training program is designed to provide students with the foundational knowledge and skills needed to work in the HVAC industry. Our Commercial HVAC training program is geared towards those looking to specialize in commercial HVAC systems.
Our state-of-the-art facilities and hands-on training approach ensure that our students receive the best education possible. With our comprehensive HVAC training programs, you will be well-prepared to enter the HVAC industry with the knowledge and skills necessary to excel in your career.